Bitubo Race Suspension is made in Italy.  It is a high quality product that beautifully combines style and high-tech performance.  It is the perfect addition to your motorcycle, whether it is your every day ride, trackday weapon or cafe racer.  Please get in touch to see what we can do for you and your bike!
Here is a little information about Bitubo's long history in the international motorcycle market:
Founded in 1963, C.D.A. Bitubo introduced itself right from the start as a dynamic company on anything related to the control of vibrations of any type, creating cutting edge damping innovative systems. Bitubo extended its knowledge to applications such as artificial limbs, seismic dampers, damping systems for oceanic platforms, up to the vibrations dampers for naval engines.
Since 1975, Bitubo has imposed itself at the forefront of the motorcycle market with the innovation of the famous pair of shock absorbers connected by two compensating rubber pipes – hence the name "Bitubo" – that were immediately adopted and raced by the greatest Champions.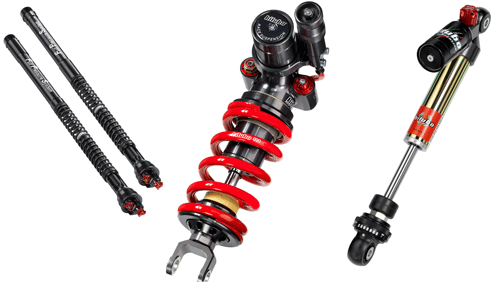 In road racing, the first World Championship was won in 1979 by E. Lazzarini in the 50cc Class, repeated the year after. In the 125 GP, the 1993 World Championship was won by D. Raudies, then runner-up in the 1994 season.
Among the high technology accessories, we offer Steering dampers, with Nitrogen compensating coaxial chamber (Patent since 1992).
In 1993 Bitubo presents the first world fork with separate chamber with a "big piston" system.
In 1998 Bitubo introduced the revolutionary Mono 4 Regolazioni rear shock absorber. Protected by international patents, it immediately becomes the benchmark, relevant even today, in the world of suspensions technology.
In 2000 Bitubo presents the HDX00 Racing Fork, the first complete fork designed and created by Bitubo to revolutionize the existing technology. Completely adjustable and pressurized (nitrogen), with a not rounded outer tube and a patented big piston system, it is adopted into the SBK World Championship, and in 2003 it wins the Italian SBK Championship.
In 2009 Bitubo has patented an innovative hydraulic system, called FPS. FPS has quickly set new track records, podiums and victories in many competitions and championships. FPS is used in the new ECH29 and RDH fork. It is the first existing cartridge on the market with hydraulic spring preload.

Today the range includes more than 1400 models available for Superbikes, touring bikes, Scooters.
Bitubo represents today the ideal solution for riders who want the best for their vehicle: performance, comfort, riding precision, and most of all, the quality of an excellent product that is constantly developed in cooperation with advanced research centres and prominent universities. Tested and developed with fatigue and destruction tests, in software and dynamic simulations.
Today, Bitubo has achieved great success in International race series such as: WSBK, BSB, CIV, CEV, IDM and many other national championships around the world.
Bitubo is now available in New Zealand through 
http://www.restorace.co.nz
. If you have any questions or would like to discuss the Bitubo Race Suspension range, please 
contact Restorace
 or phone 
Aden Cartwright:
 (+64) 274 133 144  or  (+64) 9 833 8333