Another successful weekend of racing!  Avalon Biddle shares the Repsol Suzuki Race Report for Round Four of the AMCC Club Championships at Hampton Downs…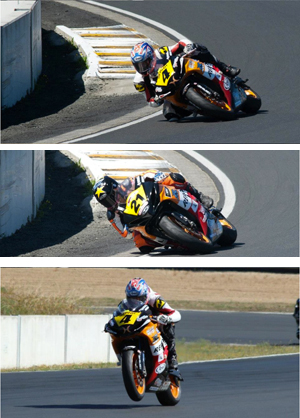 After a short break, team Repsol Suzuki were back on track this past weekend in the north island at Hampton Downs Motorsport Park for a round of the Auckland club championships. Valuable track time was on offer as this weekend coming is the NZ championships round at the same track.
It shaped up to be a big weekend for John as his partner Julia gave birth to their beautiful first daughter Amelia Anne early hours Saturday morning. Nothing can slow John down however and by Saturday evening he was on a plane up to Auckland. So once again he was very tired but wanting to make the most out of Sunday. Avalon was relishing the opportunity to ride her home track, in one of her last weekends in NZ for the next 6 months as she is moving back to Europe in 2 weeks' time. The team was also glad to work with Aden from Restorace once again, who is now very busy running his own business and working as a mechanic in the world championships.
It was already boiling hot by the time they started combined practice and qualifying in the morning which saw John as the 2nd 600 and Avalon 4th. The day went extremely well for John who achieved his goal of running lap times within a second of nationals pace, and managed to win the first two races. Avalon also had a fantastic day as she finished with two 3rds and a 4th. Promising results which left the team with first and second overall for the day!
Both riders will be back at Hampton Downs this weekend for round 4 of the New Zealand Championships. We are looking forward to the racing and catching up with many of our supporters. To those who can't be there stay tuned for the race report next Monday!